v. April 21, 2017
CIVIBAS - Archetypes: Encyclopedia and Research


_1_

" EBB-KBA-ENCY "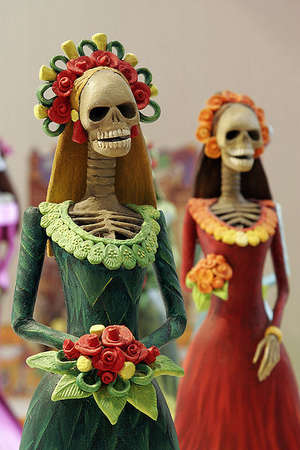 _______________

THE PROBLEM:
The many archetypes of human civilisation occur in most or all cultures.
This is of course not a problem. The lack of observation of these similarities is the problem.


Photo: The archetype in all cultures and civilisations of some communication between living persons and dead persons.
These archetype are the hidden origin of the prevailing concepts and the institutional and legal framework of nations.
This explains why governmental and legal systems worldwide during the long history of mankind are just variants and are very similar.
A world full of peace or full of wars?
The common base should have created a world full of peace and cooperation. But the path of evolution also included some factors in favor of hostility:
- Demographic growth.
- The preferences for own groups.
- The detection of individuals by visual differences.
- Leadership, the desire of domination.
- The goal to accumulate property.
- The lack of the consideration that all will be lost after the end of the short own life span.
The results: Permanent struggle - in the worst case wars. This is the problem.

THE SOLUTION:
The creation of a public encyclopedia covering the subject of archetypes. The starting point is an existing digital internal archive of documents related to archetypes. This includes thousands of documents and thousands of archetypes.
This proposal means archetypes in the widest sense. It covers everything which occurs in many or most cultures. This is not restricted in the sense of some research concepts in the field of psychology.
At present, the prevailing habit for cultural comparison is to study the differences. But the world begins to become a cooperating global civilisation. The time has come to limit the search for differences. The priority should shift to the analysis of the similarities.
INFORMATION:

» Menu: CIV7 ARCHETYPES EN DE FR
» secret / reality: Esoteric Info Center EN DE FR
» Archetypes / Examples EN
» Archetypes: Definition . EN
» Archetypes: Vampires. EN
» Archetypes: culture elimination EN
» Archetypes: language mysteries DE
» genetics & greed, money,... EN DE FR
» Bribery, embezzlement, greed EN DE FR
» Corruption / government, nepotism EN DE FR

FUNDING / REQUIRED:
Up to public availability and community creation: 80 000 USD. - Useful financial participation: 5 (or more) % from this.
Funding of this project should initially be considered as a lost donation in favor of a task of common interest.
But here is the rule that all projects should try to become later a profitable business model. In case of such a later success, the prior donations to a projects will possibly be converted into shareholder investment. In this case, the earnings could be distributed to the respective shareholders.
FINANCIAL OFFERS:
EBB-KBA-ENCY

Your msg.(with code above) to forwarder: ok @ fin7.com

(This is a module of a more comprehensive overall project. But it can also be financed independently and used.)




Photo:

Mexican folk culture: The Catrina is the skeleton of a high society woman and is one of the most popular figures of the celebrations 'Day of the Dead'. - © 2007 by Tomascastelazo; GNU Free Doc.Lic.v1.2++