v. December 21, 2018
STATVER recalculation of statistics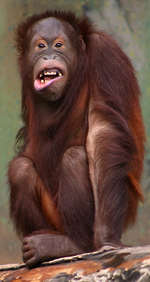 _______________


(Photo: 2004 by Malene Thyssen: Orangutan (=Pongo pygmaeus), in Aalborg Zoo, Denmark. - GNU Free Doc.Lic.v1.2++,)

THE PROBLEM:
Many errors of governmental politics,
particularly in the field of economics, have a complex reason: Main official statistics on economy differ for methodological reasons far from the true truth:
Economic growth,
business volume,
unemployment, poor / rich,
parents, children, career woman / housewife,
shadow economy, black / grey / informal economy,
health care.
Decisions are based on wrong information.
Decisions are based on
wrong price Index statistics,
wrong exchange rates,
wrong international comparisons of wealth.
Some of these errors represent politically motivated manipulation. Some of these errors are due to complex problems of data acquisition. Some of the errors are due to abstract methodological problems. Some of these errors are just the result of ignorance.
INFORMATION:
_EN_ on http://prof7.com go to the title line:
"AHA7_STAT_CONTROL - PSEUCALC Pseudomathematics"
_DE_ German: The same on aha7.com
_FR_ French: The same on aaazzz.com

THE SOLUTION:
Required is a recalculation system on the Internt. It should enable to recalculate wrong statistics by some mouse clicks.
This should be made possible and easy for journalists, scientists, members of parliaments and for all interested citizens. The result should be non-misleading figures, derived from wrong official statistics.
Marketing is then required to encourage journalists to give the truth a chance. When publishing the official misleading statistics, the unofficial truth-statistics should be published simultaneously. This would be bad publicity for the sources of misleading statistics. So official statistics would progressively return to the truth.

FUNDING / REQUIRED:
The financial requirements are not clearly defined. The project realisation can be scaled to available funds.
Amounts should be at least 3000 USD, better 10 000 or more USD.
Funding of this project should initially be considered as a lost donation in favor of a task of common interest.
But here is the rule that all projects should try to become later a profitable business model. In case of such a later success, the prior donations to a projects will possibly be converted into shareholder investment. In this case, the earnings could be distributed to the respective shareholders.
FINANCIAL OFFERS:
EBB-KCE-RECA

Your msg.(with code above) to forwarder: ok @ fin7.com

(This is a module of a more comprehensive overall project. But it can also be financed independently and used.)