v. June 23, 2019
FranckEinstein:
the system FrankEinstein - for personalized information, e.g. personal e-books, personalized health guides, personalized tutors etc.


_1_

" EBB-PPA-FRANCK "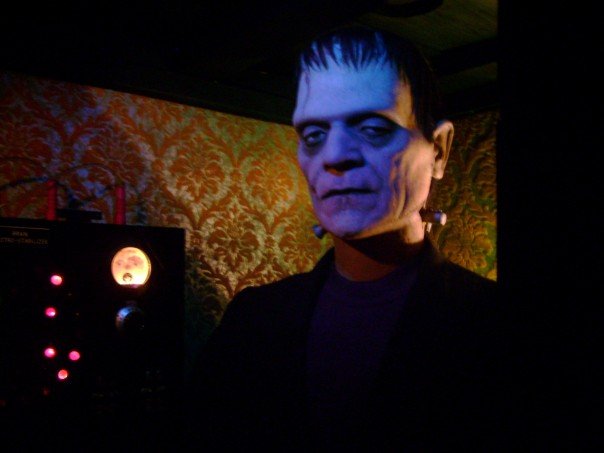 ______________________


Photo: Frankenstein's Monster at the Witch's Dungeon Classic Movie Museum. (2007 by 2112guy; publ.dom.)

THE PROBLEM:
With past technologies, content products had to be equal, like books, periodicals, TV services. Humans are not equal. Humans should have access to equal rights. But brains are not equal. Citizens should have access to non-equal information sources. It was not very kind to require from all these individuals in the past to be satisfied by a limited choice among some mainstream content products.
During several decades, throughout Europe, most citizens where at the same time looking at the same TV news or to those of not more than perhaps 3 TV information providers. In most cases this information access was (and mostly still is) under indirect governmental control. The next day, these TV emissions where a main subject of discussion among the people. - In the future of human civilisation, this will be considered as a totalitarian horror scenario during the first steps of applied information technologies.

THE SOLUTION:
The solution is the system FRANKEINSTEIN for personalized creation of electronic content and services, by using Web browsers. This system comprises the software-based on-line compilation service as well as the activity of distributing content and backing online services.
The system only uses the subset of basic universal undisputed functionalities of HTML5. utf8 is applied. Consequently, created content and service can be used still in 1000 years in all major languages (at least those which still are spoken in 1000 years). This is on all computing devices. No special hardware is required. Not dependent from any hardware or software manufacturer. No need to become the slave of some major company.
The automatic content product and service is created within the proprietary system and programming language named COOL TOOL.
EXAMPLES:
Think of an e-book about healthy food, adapted to the health state, gender and weight and other data of a specific person (offered first in 2006).
Think of a personalized language learning tutor for all major language learning pairs. It should observe the main language of the speaker, the languages which he or she already knows, and the main application purpose, and rules of high speed language learning. (1999-2002, in preparation to start again).
Think of a comparative evaluation system for election candidats which writes an evaluation report, based on the opinions of a cadidate as well as of the voter, resulting in a personalized report and rating value for the candidate. (since 2003 on the web)
Think of information snippets about legal or business subjects, to order from a list. This way an Internet user can compile his own peronalized e-book on demand. He is paying minimal fees for all selected snippets, resulting in an e-book price of perhaps 10 euros. (2005, in preparation to start again)
There are many services and content products which might benefit from peronalization. Basically all information supply for specific useful purposes might benefit from this.
THE TIME HAS COME...
Since 2010, Internet users have learnt again to pay a bit for useful content. So the time has come to reactivate these concepts and to give them a significant market presence.

FUNDING / REQUIRED:
For each specific application area (content subjects): 20 000 USD.
FINANCIAL OFFERS:
EBB-PPA-FRANCK

Your msg.(with code above) to forwarder: ok @ fin7.com

(This is a module of a more comprehensive overall project. But it can also be financed independently and used.)