v. November 30, 2020
"P.P.B. Power publishing butler"
"The press of the year 2030?" - a project of significant volume:
The press of the future - which journalism will follow the end of journalism?


_1_

" EBB-PPB-AUTPUB "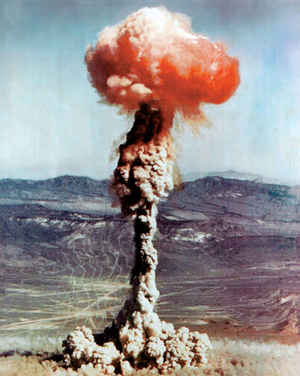 ______________________
The Internet - the nuclear bomb which will wipe out the printed press - forever.

Photo: US government /Dept.of Energy - nuclear arms test (Nevada Test Site, 1951, Operation Buster-Jangle, Charlie)

THE PROBLEM:
What will be the future of the press? There is no threat to the future of the press. There is no question if the printed press will survive. Because it is sure the printed press will disappear. The only question is what will come next.
The answer, part 1: There will always be a significant demand for quality journalism.
The answer, part 2: The future of journalism will certainly be via the net. "dead tree media" has no long term future.
The answer, part 3:

THE SOLUTION:
How to make the online press benefit from all what advanced software can contribute? - Only 30 % of this investment are so far covered. 70 % of the shares can still be obtained.
P.P.B. = "Power Publishing Butler 2030"
(a) Semi-automatic content generation (text, images), "virtual journalism". Cost reduction of 95 % (hence 5% remaining).
(c) Complete daily updates of all past content archives.
(d) Minute-based real time updates on current news and events.
An unlimited number of complete media sites.
Automatic generation of an unlimited number of much differing variants of complete media sites (for the many target audiences, like business, finance, lifestyle, health, people, local, art, literature,...).
Among others, the start page might look like a typical press media site with various sub-start pages (like politics, business, money investment, health, etc.). A site-specific layout should be enabled from a module library (start pages, content pages, branding).
Typically the single content web sites will be leased to media business partners. These partners create their reader community and get the major part of the advertisement earnings.
The P.P.B. 2030 content generator
"Robot authors" should become able to generate on each of these media sites an integrated content environment: Thousands of unique site-specific content pages with high value content.

(How this interacts with true human labor authors, is not disclosed. It is the proprietary result of a past artificial intelligence research project in France, relating knowledge & linguistics.)
The human labor cost is targeted to be below 5 % of the traditional press, and below 15 % of approaches like Hu..tonPost, De...dMedia.
Content quality should compare favorably with the current market and opinion leaders of the printed press.
EARNINGS:
Target audience advertising:
All content pages benefit from a proprietary content analysis system. This enables an own audience-specific placement of advertisement, hence not depending from marketing service companies.
Who gets the earnings?
Typically, the business partner (media company) gets more than 50 % from these earnings. The content site generator gets the remainder.
Free service without media subscription fees:
Due to the low labor cost, advertisement earnings can cover all expenses.
CYPONET: ten-fold earnings
The media sties can be interfaced or merget with market places from the CYPONET market place generator. This might result in ten-fold earnings. (More about this on request.)
optional: SHOP, SHOPPING CART
Includes a proprietary multi-domain shopping cart concept. It enables all kind of info and e-book and product sale, for example high value text articles and subscriptions. The software concept is multi-domain: Independent autonomous websites can adopt combined shopping. Useful for: Franchising, outsourcing (accounting. logistics), affiliation, micro price products.
The inversion is possible, too: Make shops for any type of business. Apply the integrated media site to back the major shop products by automatically generated fitting knowledge pages with advertisement earnings.
INTERNATIONAL:
P.P.B. "Power Publishing Butler 2030" should cover in its basic infrastructure the most important standard languages: EN ES DE FR ZH(Chin) AR(abic) RU PT . Others should be possible. The content management system should provide features for specific content of the corresponding target markets (countries, regions).

FUNDING / REQUIRED:
The final project volume is significant. But low volume investments - starting from 15 000 USD - can contribute in an efficient manner, too. This might enable the way from pilot projects to businesses.
Negotiations are only possible in direct contact with decision makers or personal investors. This will be checked first. Here is no free blueprint supply to employees searching for external ideas as a key for their career within their organization.
FINANCIAL OFFERS:
EBB-PPB-AUTPUB

Your msg.(with code above) to forwarder: ok @ fin7.com