The basic concept of SPHINX SECOND BRAIN:
The SPHINX Classification System classifies everything by topic. This is intelligence for planning, organization and archiving. Stop ordering items by alphabet. This prevailing habit is too primitive. SPHINX has free personal and professional version for businesses, consultants, journalists, editors and thinkers.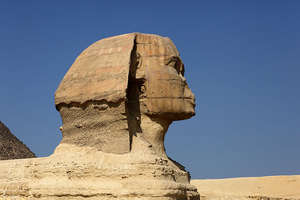 Photo: Sphinx knows all things - (C) 2010 usr.Alchemist-hp (= Heinrich P.), CPL-Lic..
Internet pages related to this:
» Sphinx Classific.: Some code samples
EN
» SPHINX Classification / service
EN
» Project: Sphinx Classification
EN
DE
And the E-Book with the reference: KKS-CLASBASH
The main characteristics of the SPHINX Classification System.
It is a universal classification system,
which structures real word elements similar to the way like our brain stores information. With the SPHINX system you can classify everything easily in a coherent manner. You can organize all kind of information and documents with its help :
The files on your computer,
but also documents like business information,
information related to personal subjects like health, food,
information related to studies, scientific archives.
Everything can be stored or saved in an organized manner for later rapid retrieval when needed. This is not restricted to digital data. It can in the same manner be applied to paper documents.
A major useful application is the maintenance of living growing computer-based archives.
Image libraries can be organized by topic.
Projects can be classified, helping to optimize planning.
At present most explanation is in English. But soon...
The following is planned if a corresponding interest and demand can be stated:
Extend the description text about the classification system progressively for the German language.
- and also for French and Spanish.
Other languages which might be covered if there is enough demand: ZH(CH), RU, AR, PT, JP.
... and other languages if enough demand can be stated.
Translation is not very important, due to a special linguistic feature:
The code definition in the classification list is 'omni-language'. The categories are defined by using words adopted by most languages of the world. This is the 'Pluranto' method. You will probably read more about this in the explanation accompanying future extended code lists.
Anyway, the classification codes are language-independent.
The codes (directory names) do not change for different languages.
Everybody can translate the description lines of the categories into any other language of his choice. (See the code lists at the end of this document.)
How can you get the codes?
A list with some basic main classification codes is published within the e-book SPHINX SECOND BRAIN. This is available since late 2013. All Internet pages related to SPHINX SECOND BRAIN will in the future specify an order address.
This e-book of this basic version is low-priced (below 10 USD / 10 EURO). It is considered as a non-profit variant and activity in order to promote a tool for educational and knowledge and science purposes.
The basic list in this e-book is very short. It only includes some basic codes. This is sufficient, due to the recursive character of the system:
You can create and add to the list your own categories whenever needed for your specific classification needs. New category codes are created by combining the basic codes.
Examples to explain the code combination rules:
Code 'P = publishing.
Code 'E =economics.
Code 'Y =problems.
Publishing - and its economic aspects: 'PE...
Investment - related to media: 'EP...
Investment losses - related to media: 'EPY
Hopeful that the building rule of a combined code (category) has become evident: The first letter is the main aspect. The second letter is the secondary aspect. The third letter is the least important aspect. More than 3 letters are rarely needed for archiving needs on individual computers or by small businesses.
The system SPHINX SECOND BRAIN does not standardize codes.
Everybody can create codes by such code combination for his application purposes. It is certain that the individual code choices will differ a bit among the users. This freedom is permitted intentionally. The single user can optimize the code creation for his need. This is useful for individual use, for personal use or in small businesses. This is intentional because the user choice reflects his view of reality. So the category system on the own PC adapts better to the inner category system in the individual brain.
Major applications require standardization of the codes.
When it comes to professional document management, coding has to be standardized. Services for this can be provided.
Requests to: ok @ fin7.com
These services are not free but non-profit with moderate fees, especially in case of small businesses and of other small entities. Here are examples where such services might be helpful:
Libraries for physical documents and for digitalized content.
Research organizations for document archives.
Editorial offices for archives for journalists.
Individual journalists can merge virtually the individual archives from partners within an author cooperation. (This helps to avoid legal copyright problems if sharing document archives without forming a legal entity.)
Public administration.
Health providers: Companies, clinics, cooperation centers.
The basic rule is: Whenever more than approximately three persons use a content archive, then better some standardized code lists should be defined and applied.
The SPHINX classification system is under copyright.
But it is free for personal use or for professional use within businesses of up to 5 employees.
Individual use by employees has no restriction. It is also always free of fee.
Only if the classification code system is used in a centralized manner with same code adaptation within the whole organization, then this requires a fee-based licence agreement.