The basic concept of Tatort Staatsfernsehen (Rosso-Report):
The SPHINX Classification System classifies everything by topic. This is efficient for planning, organization and archiving.
Stop ordering physical items by their name (by alphabet). This prevailing habit is too primitive.
SPHINX has a free personal as well as professional version for businesses, consultants, journalists, editors and thinkers: This ebook.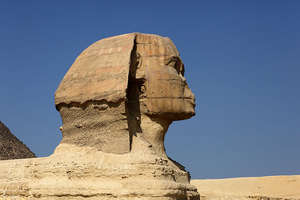 Photo: Sphinx knows all things - (C) 2010 usr.Alchemist-hp (= Heinrich P.), CPL-Lic..
Internet pages related to this:
»
Sphinx Classific.: Some code samples.
(MC:)
KSS-SREGA-EN
!EN!
»
SPHINX Classification / service
(MC:)
KSPERSN-EN
!EN!
»
Project: Sphinx Classification
(MC:)
EBB-KKS-SPHIN-EN
EN
DE
And the E-Book like escribed in uno7.org/kks-clasbas-en.htm with an excerpt of several pages:
»
SPHINX Classification System
(MC:)
KKS-CLASBASA-EN
!EN!
DE
The main characteristics of the SPHINX Classification System:
It is a universal classification system,
It structures real word elements similar to the way like our brain stores information. With the SPHINX system you can classify everything easily in a coherent manner. You can organize all kind of information and documents with its help :
The files on your computer,
but also documents like business information,
information related to personal subjects like health, food,
information related to studies, scientific archives.
Everything can be stored or saved in an organized manner for later rapid retrieval when needed. This is not restricted to digital data. It can in the same manner be applied to paper documents.
Application examples
A major useful application is the maintenance of dynamically growing computer-based archives.
Image libraries can be organized by topic.
Projects can be classified, helping to optimize planning.
At present most explanation is in English. But soon...
The following is planned if a corresponding interest and demand can be stated:
Extend the description text about the classification system progressively for French and Spanish.
Other languages which might be covered if there is enough demand: ZH(CH), RU, AR, PT, JP.
... and other languages if enough demand can be stated.
Translation is not very important, due to a special linguistic feature:
The code definition in the classification list is 'omni-language'. The categories are defined by using words adopted by most languages of the world. This is the 'Pluranto' method. You will probably read more about this in the explanation accompanying future extended code lists.
Anyway, the classification codes are language-independent.
The codes (directory names) do not change for different languages.
Everybody can translate the description lines of the categories into any other language of his choice. (See the code lists at the end of this document.)
How can you get the codes?
A list with some basic main classification codes is published within the e-book Tatort Staatsfernsehen (Rosso-Report).
This is available since late 2013. All Internet pages related to "Tatort Staatsfernsehen (Rosso-Report)" will in the future specify an order address.
This e-book of this basic version is low-priced (below 10 USD / 10 EURO). It is considered as a non-profit variant and activity in order to promote a tool for educational and knowledge and science purposes.
The basic list in this e-book is very short. It only includes some basic codes. This is sufficient, due to the recursive character of the system:
You can create and add to the list your own categories whenever needed for your specific classification needs. New category codes are created by combining the basic codes.
Examples to explain the code combination rules: