Occupy Politics Marfinettes:
Important links related to this
»
Marfinettes: Betting on governm.?
(MC:)
EYVV-MARFIN-EN
!EN!
DE
FR
»
Marfinosi: Bet on weak governm.?
(MC:)
EYVV-MARFOS-EN
!EN!
DE
FR
»
Financial crisis /_MENU_
(MC:)
EYA-MENU-EN
EN
!DE!
FR
»
Children's petition against public debt.
(MC:)
VEBY-KINDPET-EN
EN
!DE!
FR

_EN_ Occupy Politics Marfinettes
_DE_ Occupy Politik Marfinetten
_FR_ Occupy Politique Marfinettes
Photo: The Small Giant - the marionette. Berlin / Gendarmenmarkt; disctrict of the financial lobby, the parliament and the government. October 2, 2009. - Lic.: Creat.Commons Attrib.-Share Alike 3.0
the definition of Marfinettes
"Marfinettes": Politicians with a bailout syndrome:
Marfinettes are thought to be politicians who are influenced by very normal financial speculation losses to loose their rational thinking. Due to lacking economic knowledge, they consider a battle against the very normal cyclical up and down of economy as a governmental task. The result is: They feel in error obliged to transfer huge amounts of taxpayers money to the unorganized community of financial speculators as well as to other loosers.
The losses may occur in the portfolio of investment banks which actively took part in financial speculation. Significant losses may also occur for security-oriented investors like pension funds, regulated insurance companies, state-owned banks.
obsession... bailout syndrome:
Due to the intensive obligation to defend their fault of burning taxpayers money, politicians tend to develop an obsession for doing so. The bailout syndrome concerns typically a minority of leading politicians. They then abuse their political power to obtain majority decisions in favour of the bailout hysteria. Finally many or most members of parliaments adopt to adhere to a behavior like "marfinettes". In most cases, they are just unable to understand what happens in economy.
"marfinettes" - a new term:
The term marfinettes was coined in the context of new tools for the economic analysis related to the financial crisis of the type like 2007...2011.
This expression belongs to the efforts of an economic theory of some financial crisis phenomena. The word marfinettes is derived from the word for theatre marionettes. The choice of this term "marfinettes" also fits to the fact that this concerns the "fin"ancial "mar"kets.
the definition of Marfinosi
Marfinosi is a new term coined for those banks, investors, lobbies and financial speculators who try by lobbying, financial donations, or with any other action to cause the transfer of taxpayers money to them.
language dependency (marfinettes)
For various languages:
_EN_ _DE_ _FR_ etc.: marfinette, marfinetten, marfinosi;
plus:
_ES_Spanish marfinetas, marfineta,
_IT_ marfinetta,
_RU_ марфинетка, марфинеток, марфинози,
_PT_ marfinetes, marfinete
_ZH(Chin.tradit.)_ 金融木偶 ,
_JP_ マリフィット
The expression may vary a bit, depending from the language:
_EN_ _FR_ Marfinettes is for English and French.
_DE_ Marfinetten = German language.
_ES_ Marfinetas = Spanish language.
The use is typically in the plural form.
The singular form is for three of these languages Marfinette. For the Spanish language it is Marfineta. .
But normally a single politician should not be called a marfinette. Individuals may possibly just be in error about complex subjects like the complexity of financial markets and economic theory and reality.
The phenonemon is only of politicial impact if a major part of politicians and parliamentarians behaves like have been manipulated with success - manipulated by lobbies and pressure groups - or manipulated just be facts and events.
First occurence of the expressions marfinettes and marfinosi
Since september 2011, coined by the economist Pedro Rosso for Spanish, English and French, German:
Marfinetas / marfinettes / marfinetten.
He coined this term for a new phenomenon during the crisis years 2007 ... 2012. The new phenomenon is thought to be the result of a new constellation, occuring now for the first time in history:
The computerisation of the financial markets in connection with instant worldwide Internet communication.
The first observed facts where the bailout schemes for banks (2008...2009), instead of just accompanying by governmental and legislative action a controlled way into bankruptcy.
The second major event group where the efforts of bailouts for Greek, Portugal, Italy, Spain, Ireland. Many economists, journalists and politicians in Germany considered these rescue concepts as illegal and / or as useless and / or as not necessary and / or as violations of the basic rules of politics of economics.
The Euro currency crisis 2011, does it conform to the definition of marfinettes and marfinosi?

Now everybody is invited to spread on the Internet and in the printed press and in the scientific discussion his / her opinion related to marfinettes and marfinosi.
The choice of the word "Marfinettes"
Goal 1:
A new word for a new phenomenon.
Goal 2:
Politicians and parliamentarians will not like to be something like "marfinettes".
So they will prefer to stop being "marfinettes". Spreading the message of this word over the Internet is perhaps the best way to get back to rational economic policies. This would reduce the increasing risks for democracy in the various countries concerned.
Consequently: Please participate in spreading the message, hence the links to these pages:
»
Marfinettes: Betting on governm.?
(MC:)
EYVV-MARFIN-EN
!EN!
DE
FR
»
Marfinosi: Bet on weak governm.?
(MC:)
EYVV-MARFOS-EN
!EN!
DE
FR
Please add a link to this page


in forums, comments, blogs, web sites, social networks. (permanent_link:)
.
http://aha7.com/pen/eyvv-marfin-en.htm
We protect your privacy by not using publishing buttons for Facebook, Twitter and others. Therefore we rely on your help to spread our page links.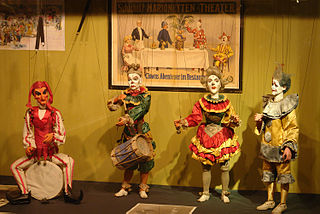 Photo: 4 musicians. They play the music of the one who pulls the strings. Luebecker Theaterfigurenmuseum (Germany).- Photo: Jürgen Howaldt (2009). - Lic.: Creat.Commons Attrib.-Share Alike 3.0-de